Today's post is for Scrap'N Stamp's Galentines Blog Hop. If you are following along you have come from Sandi's blog and oh my I love her cards!! If you missed the start – No Problem! You can click here to start at the beginning.
I have to tell you, I am so in love with this concept! Valentine's Day for me is celebrating the idea of love and all of those different types of love that we have for people. The love for our children, our spouses and of course our friends! Now, I must admit, I don't have a lot of gal pals….but the ones I do have I am so very thankful for. I love that no matter how much time goes by between seeing eachother (and sometimes that can be years….) we always pick up right where we left off…not even missing a beat!
When I think about what I typically do when I get togther with the girls it is usually for wine or coffee. Lately, I have been enjoying cofee more than wine (weird..I know)…so, when I saw this super cute set from My Favorite Things called Friends at First Sip, It was screaming for me to create a scene card! I love all the critters and the two gal pals. There were so many ideas that came to mind! In thinking about how I wanted to create my scene I also knew that I wanted to step out of my "A2 size card comfort zone" and explore making a stepped up version of the Z fold card.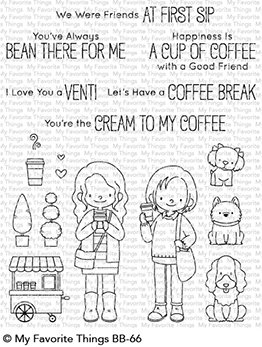 the great thing about these cards is that you can make your Z fold card in any shape or size. For simplicity sake, I thought I would stick with one that could fit in a 6″ x 6″ envelope. You can see the measurements I used in the picture below.
The base will measure 11″ x 5 1/2″. You wil score at the 2 3/4″ mark and the 5 1/2″ mark.
To step this card up I am adding an additional piece/element that wil pop out from the card. Again, you can vary the size of this as long as it is the same length as your card base. If this is your first time making one of these cards I suggest using these measurement f 1 1/2″ x 11″ You will then score similar to the card base……but on the opposite side. I have tried to make this easy to understand by using the same score measurements as we did in our base. You just need to remember if you are using a patterned paper or are adding any sort of shape to the top of this piece that you will want to turn your piece upside down to get the scoring in the correct place. Confused yet? I suggest you watch the corresponding YouTube video below so that this makes a bit more sense….
Now that we have the general idea of measurements I will show you how I made mine. The best way to do that is of course by video. So click below to watch the magic happen.
I hope that you found today's video tutorial helpful and are inspired to give this stepped up Z fold card a try! You can find the list of materials I used below.
Remember to leave your comments on each blog for your chance to win that $50 Scrap'N Stamp Gift Card! Next up on the blog is the talented Deborah! Again, if you missed any of the blogs for this hop the complete list with links is below! We would also love to see your Galentine cards, remember to post them on the Scrap'N Stamp Facebook Challenge Page.
Blog Hop Participants:
Materials List: